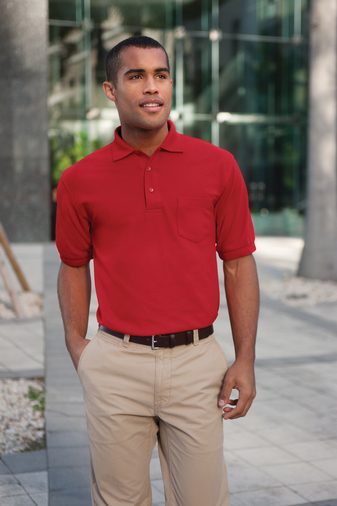 If your curiosity has been piqued about pique polo shirts, well, you're in the right place. In today's behind-the-scenes deep dive, we're looking at the wide world of pique fabric and how this unique style can be used to truly set apart your polo shirt selection.
Read on as we uncover the history of pique polo shirts, the different types of piques out there, and which printing methods work best with this all-original.
The Origins of Pique
Unlike piqued interest (pronounced "peeked"), pique knit fabric is pronounced "pih-kay". You'll know a pique knit fabric by raised cords or ribs in what's usually seen in a waffle-type pattern all over the garment. French women's tennis star, Rene Lacoste, actually designed and wore the first pique polo shirt on the court in the 1930's and started a worldwide french pique craze.
Even now, the unique style that is all pique stands out among its peers as one of the best choices for polo shirts.
Different Types of Pique Polo Shirts
Knowing the difference between a performance pique and a heather pique polo shirt may just prove to be the deciding factor that helps you find the perfect polo for your situation. The materials also play a crucial role, affecting factors like hand-feel and printability, which can vary dramatically between different types.
Within the pique knit shirt category, top names in apparel like Hanes and Gildan are putting up an absolute diversity of styles and fabrics to choose from.
You'll find pique polos available in different fabrics like:
You'll also see these in different styles like performance pique shirts, which incorporate features like moisture-wicking, odor control, and even sun protection. Classics like the Gildan 3800 Ultra Cotton Pique polo shirt show why they remain a top seller with the ultimate in comfort, affordability, and ease of printing. We'll ponder properly printing piques next.
Printing & Pique Polo Shirts
Embroidery is probably the best choice in pique shirts because of just how clean and neat the final product becomes. You can usually bet that an embroidered pique polo's value is going to increase, a good omen for retailers and print shops. Heat transfer is also a good choice because the tiny cavities of the pique are covered and it generally provides for clean aesthetics.
The method to be careful with when it comes to piques is screen printing. Screen printing is not generally desired for standard pique knitting. Instead, look for what's known as a micropique, which you'll often see with sports shirts as it comes in a tighter knit that produces a smoother texture.
Start Your Own Pique Polo Shirts Journey Now
Now that you're a pique polo pro, feel free to browse the hundreds of top styles we carry in our polo shop.
---
Related posts