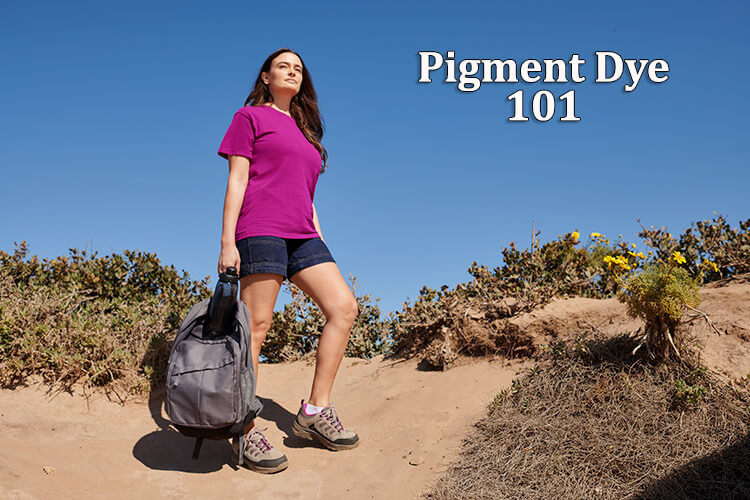 Pigment-dyed t-shirts are an immensely popular shirt among companies, large groups, and events. Known for their vintage, slightly faded appearance, pigment-dyed t-shirts have become a signature look for major t-shirt manufacturers like Comfort Colors t-shirts, Port & Company, and others. But what does it mean to be a pigment-dyed t-shirt? Here, we will explain the wonders of pigment-dyed t-shirts and if they are the right fit for your group, youth camp, or event.
What is a Pigment Dye?
A pigment dye is a pigment that has been treated with a resin or an adhesive agent to bond to fabric. You see, pigments are not naturally capable of adhering to fabrics and so they require an additional step in order to create colorful Comfort Color t-shirts, beautiful pigment-dyed t-shirts, or brilliant Independent Trading pigment-dyed fleece.
Once the pigment dye is created, it is applied to a finished garment to adhere to the outside layer of the fabric. Pigment dyes do not completely dye the fibers of fabrics but only adhere to the top layer. This means that they give garments a slightly faded look from the very beginning as the inner layer of the fibers comes through. This vintage, the faded hue will increase over time as you wash and wear them.
The Companies that Make Pigment Dyed T-Shirts
Though there are several companies that have found their niche in the pigment dyeing process, some of the most notable are Comfort Colors t-shirts, Dyenomite, and Independent Trading Company. These companies have made free trade pigment-dyed fleece and pigment-dyed t-shirts a staple in the apparel world and made the fabulous vintage fade come into the limelight.
By using the pigment dyeing method to create their garments, these companies have opted to create a signature, nostalgic look that is one-of-a-kind, unique, and individualized.
Are Pigment Dyed T-Shirts Right for Me?
Depending on what you are looking for with your t-shirts and fleece, a pigment-dyed option may or may not be right for your group or event. Because of the uniqueness and fading tendencies that pigment-dyed t-shirts carry, they will all have slightly different hues and tones. If exact color specificity is one of your higher priorities, then pigment-dyed t-shirts may not be right for your event or brand. However, if you enjoy the unique and vintage feel, then you should definitely look into pigment-dyed t-shirts and free trade pigment-dyed fleece options.
Love the Vintage look of Pigment Dyed T-Shirts? Order Today
If you love that unique and classic look of pigment-dyed t-shirts, check out some of the top brands that we offer and place your order for your own collection. Get the stylish and vintage look of pigment-dyed t-shirts.
---
Related posts