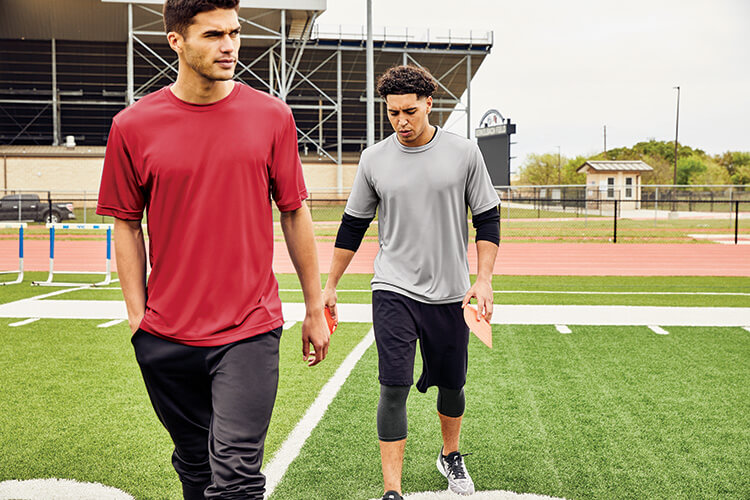 When you're pumping iron or on an intense 5k run, the right workout shirt can make all the difference. You can take your workout to the next level with the right gear. But with so many options and brands, how can you tell the best for comfort and quality? Lucky for you, we know what makes a great workout shirt.
We've compiled a list of some of our favorite workout tees and explained why we love them so much. Whether you're after moisture-wicking material to keep the sweat off or something light and breathable, these options will become your new favorite shirts for the gym.
1. Hanes 4820 Cool Dri Short Sleeve Performance T-Shirt
First up are these incredible Hanes performance tees. Made with 4.0-ounce, 100% polyester fabric, these lightweight shirts are made to keep you dry and cool. When trying to hit that extra mile or push your maximum reps, the last thing you want to worry about is getting sweaty and sticky. The Hanes Cool Dri technology lets you stay cool and comfortable under pressure. Their multiple color options and breathable design make it easy to see why these are among our best-selling workout t-shirts.
2. Badger 4204 Ombre Long Sleeve T-Shirt
Adding a little flair into the mix, these long sleeve Badger workout shirts are made from sublimated 100% polyester. This gives them the natural moisture-wicking effect that pulls sweat away. The long sleeves also give them excellent sun protection during outdoor workouts. However, the real beauty of these workout shirts is their unique faded design. With five color options, these shirts make you look good while you work hard.
3. Paragon 222 Aruba Extreme Performance Long Sleeve T-Shirt
Yet another long sleeve option on our list, these Paragon workout shirts are both comfortable and practical. Made with microfiber polyester, the shirts help fight off moisture and odors. With the natural moisture-wicking of polyester combined with the antimicrobial treatment, you'll avoid smelling like you've just been to the gym. As a bonus, the comfortable 4-way stretch fabric gives you flexibility and freedom of movement. With these workout shirts, nothing can stand in the way of your fitness goals.
4. Gildan 67000L Softstyle Women's CVC T-Shirt
This next option is just for the ladies. Made with a cotton/polyester blend, these Gildan women's workout shirts have the best of both worlds. By blending cotton and polyester, Gildan has built these tees to have the best qualities of both materials. You get the cotton's soft, comfy feel and polyester's moisture-wicking properties. While these tees boast a contoured design to flatter your figure, they are still roomy enough to wear comfortably all day. Ladies, you'll love how you look and feel in these women's workout shirts.
5. Champion CHP160 Sport T-Shirt
Last, but in no way least, is an absolute standby in workout shirts. Champion's CHP160 Sport T-Shirt gives you a great polyester/spandex fabric blend that's going to move and glide through every workout. The micro-mesh and side vents make sure there's always airflow and the Fresh IQ anti-odor helps ensure you're not offending your fellow gym-goers.
Things to Look for in Workout T-Shirts
While the five workout shirts we mentioned are all great options, we offer many more choices in t-shirts from top names like C2 Sport, A4, Champion, Russell Athletic, and more that would work well for various athletic pursuits.
Here are a few things to keep in mind while trying to find the best workout shirts:
Moisture-wicking abilities
Breathability
Cooling technology
Odor protection/antimicrobial
Quick drying materials
Comfort
If you find workout shirts with some or all of these properties, you'll have a winning combination in your wardrobe. Now that you know what to look for in a workout shirt go out and achieve your fitness goals! Be sure to check out all your options for wholesale t-shirts at Blank Apparel to always have the perfect tee for any situation.
---
Related posts