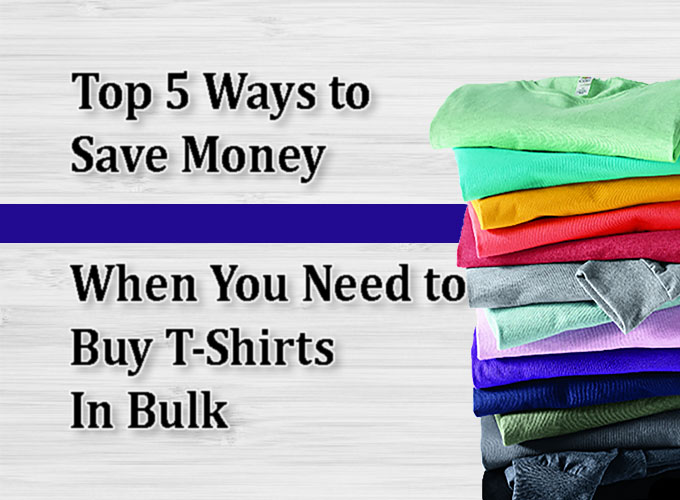 Everybody wants to get a good deal. Even if you have an enormous budget, being able to get the biggest bang for your buck is important! Buying T-shirts in bulk can help you get that value you are looking for and your bottom line will reflect your wise choice. No one wants to feel like they got ripped off by paying too much for a product that they could have purchased for less somewhere else.
The answer? Utilize quantity discounts that are offered by buying wholesale rather than retail. So let's look at 5 ways to save money by buying T-shirts in bulk.
1. Take Advantage of Quantity Discounts
First, wholesale T-shirts offer discounts for buying in quantity. For most styles you can save upwards of 20% on your bulk purchase. Examples such as the enduring Gildan 5000 100% Cotton T-shirt offers a fantastic heavy-weight durable T-shirt for as low as $1.90 per shirt! Or if you need the style of a raglan baseball style to outfit your team and you want to up your game to the Tri-blend fabric, Next Level Apparel's classic look in bulk can be less than $7 per shirt. These kinds of values are rarely seen in today's e-commerce market and can help you offer the best product at the best price to your team or business.
2. Get an Array of Sizes for Maximum Utility
The second thing that comes to mind about buying bulk T-shirts is that you can buy to fit anyone. Personalizing a fit is important for your clients or athletes to look and feel their best. Wholesale T-shirts allow you to purchase multiple sizes from XS to 6 XL as seen in the popular beefy T. The options are wide open when you consider buying wholesale T-shirts. To buy T-shirts in bulk just makes sense, or is it cents? Yes to both! The ability to find exactly what you need to fit anybody is a valuable tool in your wheelhouse.
The best news of all is that quantity discounts abound even with different sizes! The price-break quantities include all products in your order. No need to match style, color, or size!
3. Make It Your Own FTW!
Bulk T-shirts are an important way to save money because they are fully customizable. Blank T-shirts present a perfect backdrop for your team name, business logo, or school motto. This allows you to use plain T-shirts as a marketing tool advertising your message in eye-catching style. Every time someone wears the comfortable long-sleeve T-shirt people will be attracted to the style and your logo. When the team goes on the road wearing the classic raglan baseball shirt the school and what it stands for will be well-represented. Purchasing custom-made logo shirts for the whole team is usually not in the budget, nor does it represent a good value. Blank T-shirts that you emblazon with your own graphics will save you money while still allowing the group to look and feel good. Doing your own customization on the wholesale T-shirt is a great advertisement and a smart way to stretch your dollars.
4. Quality and Quantity Together At Last
Obviously, just because something costs less initially does not necessarily make it a good buy in the long run. However, purchasing high quality T-shirts in bulk will mean those shirts last over time and increase their value. High-quality fabrics such as 100% cotton and Cotton/Polyester blends have proven durability for the long haul and can handle your toughest assignment. Wildly popular fabrics today are the moisture-wicking, dry-weaves that stand up to the intense athlete's workout. Buying these blank T-shirts made from proven long-lasting materials will mean that your consumers will enjoy the T-shirts over time. This extends the value of purchasing bulk T-shirts.
5. Higher End Apparel for Less
The beauty of wholesale t-shirts is that you'll have access to all of the best names that everybody recognizes like Champion, Gildan, Hanes, Jerzees, Puma, and so many more. For resellers, this let's you get higher-end t-shirts and apparel at wholesale prices, delivered right to your store or print shop. Higher-end apparel means you can charge higher prices which can translate to increased profitability for your business. For team managers, this means you get to order better clothing for less, making you the hero as your team gets to train and compete in style. Even just for everyday consumers, buying for everyone on your list suddenly means better prices on better clothing that someone else brings to your front doorstep.
What's the Best Bulk T-Shirt to Order?
Now that you know everything there is to know about getting a great deal on bulk t-shirts, you'll just need to decide which styles speak to you. In our top five best-selling t-shirts, you'll notice a trend. The name Gildan pops up at four of the top five slots because Gildan is the de facto king in simple, yet well-made clothing options that are extremely versatile. From team training, to outside workwear for your landscape crew, to outfitting everyone at a company outing, Gildan has the economically-priced options that come in a seemingly endless variety of styles, fabrics, and blends.
Hands-down, one of the most popular Gildans of all time is the Gildan 5000 Heavy Cotton T-Shirt. This t-shirt embodies that extreme versatility, ultimate value, and excellent durability that you expect from a 100% cotton t-shirt. This shirt holds extremely well to a wide variety of printing methods making it the quintessential blank canvas for whatever embellishments are designs.

Start a Blank T-Shirts Order Now
Buying blank t-shirts online opens up the doors to being able to get exactly what you want at a great price for you or your organization. So now the only tip remaining is to lean back and get comfortable for some high-quality bulk t-shirt browsing time.
---
Related posts