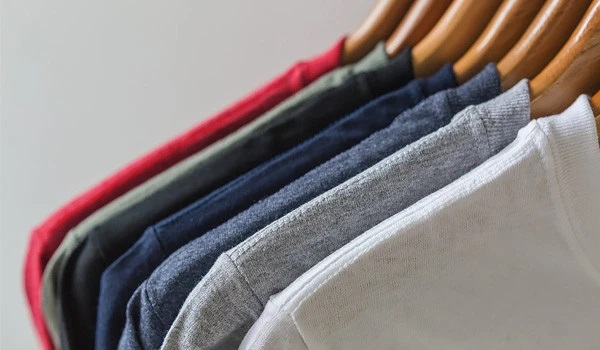 Tri-blend t-shirts, 100% cotton t-shirts, cotton poly blend t-shirts - oh my? If trying to decipher what the difference is between the many different fabric options available has you confused, today's spotlight series will help shed some light on the situation. We'll cover the most popular fabrics and the top designers pushing the envelope with what's possible in blank and wholesale t-shirts.
Tri-Blend T-Shirts
While the proportions can be different depending on the style, tri-blend t-shirts contain polyester, combed and ringspun cotton, and rayon. These three fabrics come together to make comfort, durability, and drape all in one package. Bella + Canvas shirts like their solid tri-blends give the benefit of synthetic and natural fibers and are engineered to be easily-printable. A speciality tri-blend t-shirt known as a 'slub' is knit to give it a more of a vintage look, adding depth to screen printing methods.
100% Cotton T-Shirts
By far the most common t-shirt you'll see is the classic 100% cotton. 100% combed and ringspun cotton is a higher quality cotton yarn that takes out the impurities and is formed with long strings of fabric. This makes for a tight weave that yields excellent results for printing.
Cotton Poly Blend T-Shirts
A popular variety of cotton poly blend t-shirts is a Heather CVC. This has a nice texture and hand feel while still being incredibly soft. The choice of materials make this a great middle ground between value t-shirts and higher-quality synthetics. Now that you have a better idea of some of the top fabric choices available, start browsing your options from our extensive selection of blank t-shirts.
---
Related posts