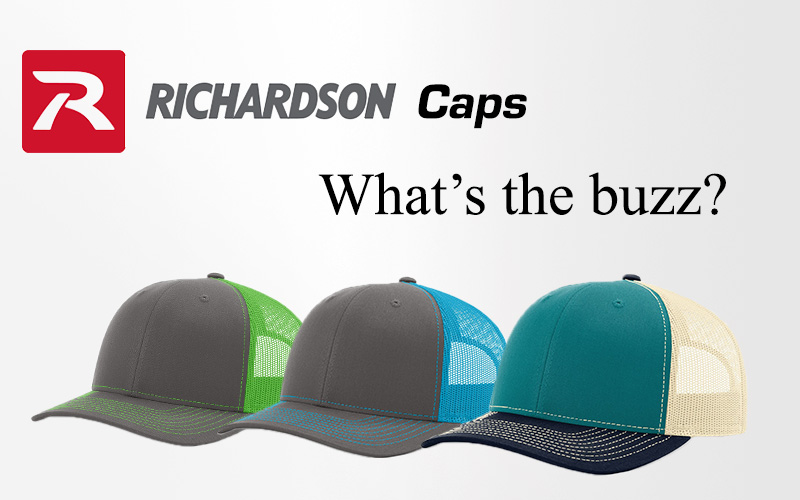 Pretty much everywhere you look these days, you will see someone wearing a Richardson 112 trucker hat. These high-profile trucker hats have taken the market by storm and have been one of the most challenging items to get your hands on. What's with all the buzz around Richardson hats? Well, it is not for nothing that Richardson hats have become the industry standard for the commercial hat industry.
In this blog post, we'll explore why Richardson hats are so incredibly popular, how they are building brands worldwide, and what are some of the best trucker hat options our friends at Blank Caps have to offer.
What We Love About Richardson Hats
One of the top reasons we have seen so much buzz around Richardson hats is that they are the pinnacle of quality. The Richardson 112 has become the gold standard of headwear and is known to be top-notch craftsmanship. Designed with a flexible snap, comfortable mesh, and a slightly bent bill, the 112 is both well-made and comfortable to wear.
The main reason these hats have been so popular, however, is the potential they have for marketing merch and business advertising. The high-profile front makes a huge blank canvas to add a logo, a custom patch, or artwork. We've seen brands around the world capitalize on the opportunity to create custom hats and grow their label. While the concept of advertising on headwear is nothing new, there has been a resurgence of this method over the last several years and the timeless style of a Richardson 112 provides the perfect blank canvas for a mobile billboard.
What Richardson Hats Can Do for Building Brands
With the boom in popularity and demand, custom hats are a ripe opportunity for businesses to increase exposure and circulate their brand. By placing a business logo on something like Richardson hats, your reach extends beyond your typical audience and can lead to more potential customers in the future.
Another massive industry that is taking advantage of the trucker hat craze is custom merchandise. Whether it's for a concert, special event, or group activity, a custom trucker hat is a fun and lucrative merch item. Because wholesale trucker hats are a reasonably affordable option, they can have an excellent profit margin. Plus, they make fantastic souvenirs for all kinds of events.
Trucker Hat Options for Growing a Brand
While we are finally seeing some relief in the trucking hat shortage caused by the pandemic, it's still best to have several good options. Of course, the Richardson 112 is the most sought after trucker hat on the market, but these alternative options are also a great choice as well.
Port Authority C112 Snapback Trucker Hat
Our first recommendation for alternatives is these Port Authority hats. With the same high-profile and mesh design, Port Authority has created these hats to be ideal for adding a logo or custom patch.
2. Pacific Headwear 104C Trucker Hat
Another excellent option is these trucker caps by Pacific Headwear. With many color options, these high-profile truckers are great for getting custom hats for a merch table or advertising your brand.
Keep On Top of Blank Apparel Trends
As one of the leading wholesale apparel providers, we keep you up-to-date on the latest and most significant trends for growing your brand through custom apparel. Keep checking in to get our most recent posts.
---
Related posts