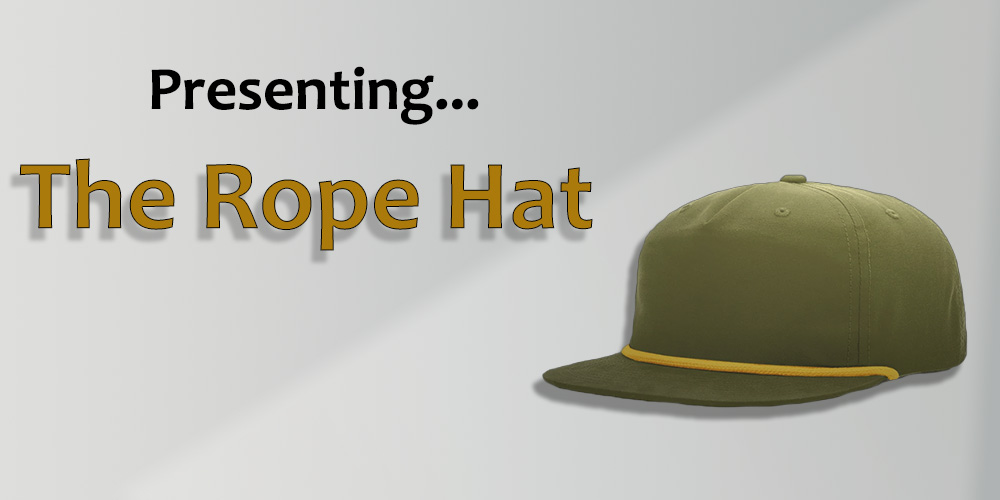 Find Classic Style with Modern Materials in a Stellar Rope Hat
We all know how popular trucker hats have been in the past few decades, but you don't have to settle for the same old same old. A rope hat puts a new, yet classic, twist on the iconic trucker style. These fun and fashionable hats were booming in the 80s and are back in vogue in the headwear world right now.
At Blank Apparel, we don't leave you high and dry to find the right style or brand. We have all the inside knowledge about what you need to get fantastic headwear.
What is a Rope Hat?
Though the first thing you may think of is a timeless naval hat, rope hats are a category all their own. The iconic 80s rope ball cap has been upgraded with many new fashions and stellar styles, so rope caps today can work for everyone's taste. Rope hats are similar to trucker hats but have a distinct band around the front profile. This small cord adds a dimension of texture and often a pop of color for a more diverse style.
Depending on the rope hat, they can be made in any size, color scheme, and closure.
This versatility makes them an excellent option for any number of businesses or activities.
Whether you need a stellar men's rope hat or a women's rope hat, we've got options for you in all the best brands.
Buy a Top-Seller with a Richardson Rope Hat
Richardson hats have been trendy worldwide and are known for their high quality and high demand. A Richardson rope hat offers the same dependable quality and style as their super popular trucker hats, with the twisted band accent. We love Richardson hats. Richardson offers various colors and sizes to get everyone the perfect fit. Plus, with a range of mesh and cloth backing, a Richardson rope hat can be used for all kinds of weather and activities.
You'll love any Richardson hat from the moment you put it on.
Channel Your Inner Champion with an Imperial Rope Hat
Another highly popular brand that we love is Imperial. An Imperial rope hat is going to be the essence of style and expression. With tons of unique options and patterns, an imperial rope hat can be whatever you want it to be. Imperial has you covered whether you want to express yourself with a reliable golf rope hat or flex your fashion sense with a bright pattern.
Choosing the Perfect Style
One of the great things about rope hats is that you have nearly endless options for styles and colors. Every brand makes a unique blend of backing, colors, sizes, and styles. With so much to choose from, it's easy to get lost in your options. Find a fit and color that works best for your style and head shape, then expand on that.
Shop Rope Hats Now
A rope hat can be a means to express yourself or a component of your brand. The diversity and options for you are boundless. Check out how the timeless rope hat can change your look today.
---
Related posts